Mar 27, 2023
Meet Your PrepayPower App Savings Feature
We always listen to feedback and suggestions from our customers.
So, when they asked for a way to save for their energy usage, we created the PrepayPower app Savings feature. 
What is the PrepayPower App Savings feature?  
The Savings feature lets our SmartPay+ prepay electricity customers set something aside for top-ups.
It's ideal for when:
Your energy usage increases during winter

The household budget gets stretched (Christmas, back to school or family events)

You need to top up your electricity account on a rainy day
Keep reading to learn how to build, use and track your savings from the PrepayPower app.
Start an Automatic Savings Routine
Sometimes, remembering to save is half the battle – but not anymore. You can start an automatic weekly Savings Routine and let your app do the rest.
Just pick a day and amount that works for you and watch your nest egg grow.
Saving Stat: 80% of PrepayPower savers prefer the weekly Savings Routine.

Flexible: You're able to change or disable your routine at any time.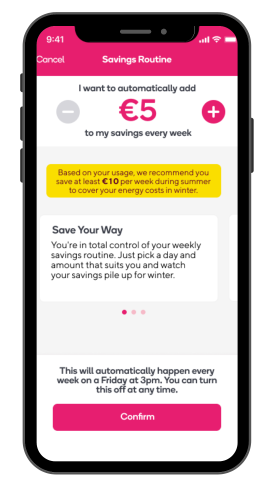 Make Once-Off Savings
You can also make Once-Off Savings whenever you want.
So, if you have enough to spare at the end of the week or just got paid, add it to your Savings in seconds.
Ready to save? Learn how here.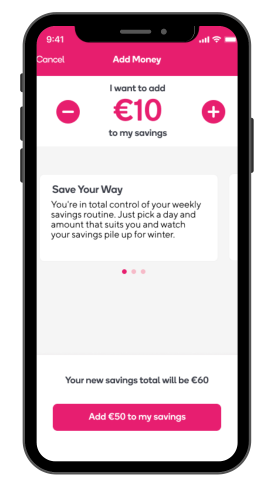 Save Smarter with the Monthly Forecast
Saving can be difficult without a specific goal. Fortunately, the Monthly Forecast lets you see your expected total electricity costs from the 1st of the month. So you'll always have an amount to save towards.
How to Use Your Savings for Top-Ups
You're free to dip into your Savings anytime you need to.
Starting from €1, you can top up your electricity balance from your Savings with three taps of the PrepayPower app.
This will be especially helpful during the winter months.  
Because when the temperature drops and daylight is in short supply, we need more energy to heat and light our homes.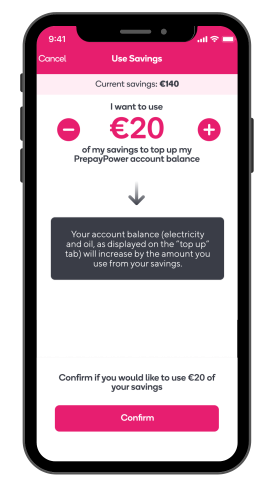 Track Your PrepayPower Savings
You can access the Savings section in your PrepayPower app from the Services menu.
At the top of the main screen, you'll see Your Savings Total (balance).
Scroll down to view a summary of your Savings History. Then click See More for a breakdown of your previous saving events, including:
Times and dates

Amounts

Method (Savings Routine or Once-Off Savings)

Top-up transactions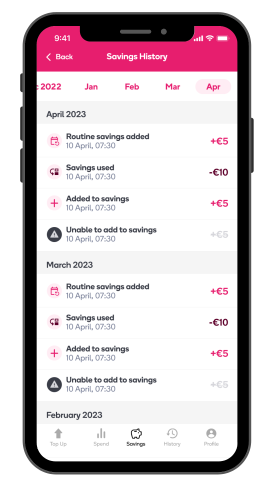 Personalised Tips and Updates
Finally, based on usage data collected from your smart meter, you'll get personalised tips and updates in the Savings section of your PrepayPower app.
For example, you'll see how many weeks of winter energy usage your Savings Total will cover.
Any questions or suggestions?
Email us at appfeedback@prepaypower.ie. 
Join PrepayPower
Track, control, save and pay for your home energy and broadband from just one app. Join our 180,000+ bill-free customers today.
Off