Using your savings to top up
Topping up your balance with your savings is a lot like, well, topping up!
How do I top up my account balance using my savings?
A few quick clicks of your app is all it takes to top up using your savings. Just follow these steps: 
Open the Savings section from the main menu of your app and check your Savings Total (balance) 

Tap Use for top up 

Press + or – to choose an amount & click Confirm 
You'll then see confirmation of your top-up & new PrepayPower balance 
Total Control: You can use any amount of your savings (starting from €1) to top up your balance.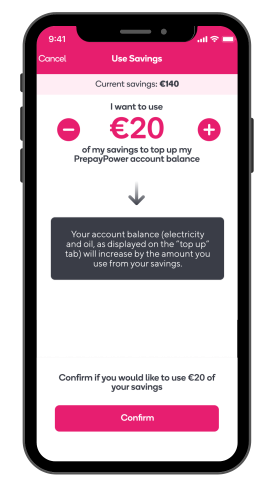 Frequently asked questions
Can I use my savings to top up my gas? 
No. You can only use your savings to top up your electricity account balance. But you can use your savings to pay for your electricity, oil or broadband. 
Can I move money from my electricity balance to my savings? 
No.  You can add money to your savings directly which can then be transferred to your electricity account. 
Can I take money out of my savings and put it back on my card/bank? 
No. Any money you add to your PrepayPower savings can only be transferred to your electricity account via top-up.  
Can I set my savings to be used to auto top-up my account? 
No. Your auto top-up will continue to be processed on the default card on your account. But you can transfer money from your savings to your electricity balance.